At XTAR, social responsibility means taking action. While we may never meet the soldier in the field that relies on our communications, we never lose sight of the importance of our job, or theirs.
To us, social responsibility means supporting these men and women both during and after their service. To that end, we have chosen the following organization to support.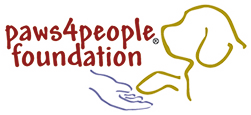 This organization works to educate and empower people to utilize assistance dogs to transform their lives. paws4people specializes in training customized assistance dogs for a variety of recipients including veterans and service members with Chronic/Complex Post-Traumatic Stress Disorder (C-PTSD) and Traumatic Brain Injuries (TBI).
To find out more, please visit: paws4people foundation